Carutsel: From Concept to Creation
Published: October 17, 2023
In this exclusive interview, we delve into the journey of a rising Armenian fashion designer Anaheed Sarian, as she shares the inspiration behind her unique project, Carutsel. From international experiences to local insights, discover the nuances of the fashion scene in Armenia and the aspirations of the creative entrepreneur in the making.

Carutsel stands as a notable participant in the Artbox Incubator program.
Q: How did your project Carutsel come to be? What inspired you to start working on it?
A: Carutsel was indeed a concept before it became a body of work. "Կառուցել" (carutsel) - the Armenian word for constructing or building stood out to me because I not only deconstruct existing textiles but I then form new futures with them. This speaks to my overall beliefs about living in Armenia as a repatriate, it is about harnessing collective power and building without overlooking anything around us in the quest to fortify our homeland.
The word 'carousel' is also blended within this, as the more personal side of the story where life itself takes us for a ride each day, and what we dress ourselves in becomes the tangible embodiment of memories and stories.
I moved to Armenia with the intention of establishing my namesake label here, and when the Artbox program for 2022 was announced, I took the leap and got started. It was scary and still is because a small business needs all of your time and resources to maintain a successful future - but I believe that if I can persevere through this fledgling stage, then I'm setting myself up for the "long game" and that type of challenge really excites me.
Carutsel
Q: Having worked in both Armenian and international fashion scenes, what differences do you see between the two?
A: My experience working in ateliers and studios in Gyumri, as well as networking with the fashion community in Yerevan, has shown me that there is a missing link in the chain.
Globally, you need to pay a lot of attention to what your peers and competitors are doing on a seasonal basis, whether that be through trends, sales, marketing strategy, etc. After all every industry has its ecosystem and brands exist alongside each other. There is no such thing as having the full attention of your client and no background noise from elsewhere. So coming back to the local industry, many makers and producers here are highly skilled and experienced, especially older generations who worked throughout the soviet era. However, I rarely hear a lot of sellable stories. Armenians love to create, we are innately crafty people on many levels, but in order to be more included in the global fashion industry we need to have strong reasons behind what we are presenting. That is why I'm very grateful for my background in design theory and concept development and I hope to see local universities and tertiary educators in Armenia adding this into their practical syllabus.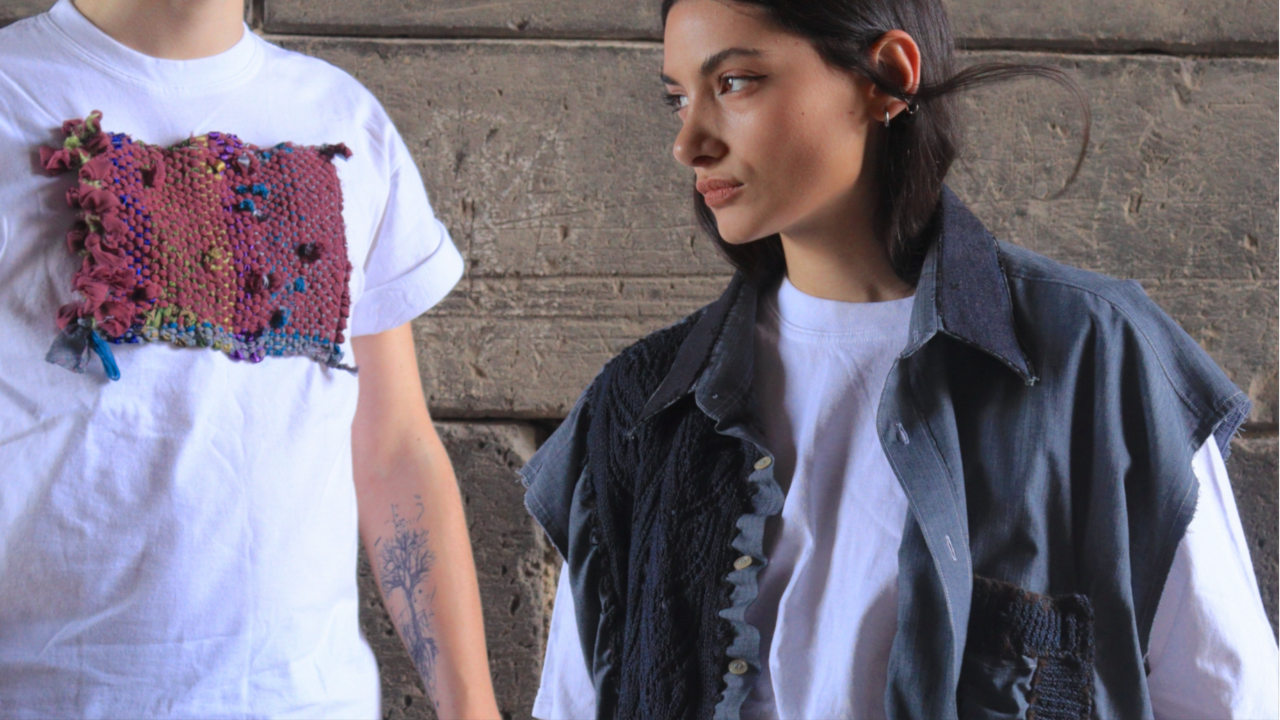 Carutsel
Q: We know you took part in the YBAF Fashion Award 2023 showcase. Could you tell us more about the event and your role in it?
A: YBAF's fashion award event was my first runway show in Armenia. It was actually one of my short-term goals to showcase at Latitude Art Space so to have had that happen already feels great! It also allowed me to meet other emerging designers and interdisciplinary creatives.
We heard many times during and after the show process that we, 5 participants, produced what Yerevan Fashion Week lacked. It seemed to prove that there is a lot of talent in this country that needs a platform. YBAF gave us a chance to be visible without financial input - all the models, lighting, makeup, sound, hair artistry, etc, these are normally huge costs and we got access to them for free which is a huge privilege! I also loved that we could have a wall presentation to share our process with the audience, so they got to see a connection between our ideas and the final result on the models.
Ultimately I felt very in my element, as I love to branch out of the traditional runway approach and hope to have my own static exhibition someday at another beautiful venue in Armenia.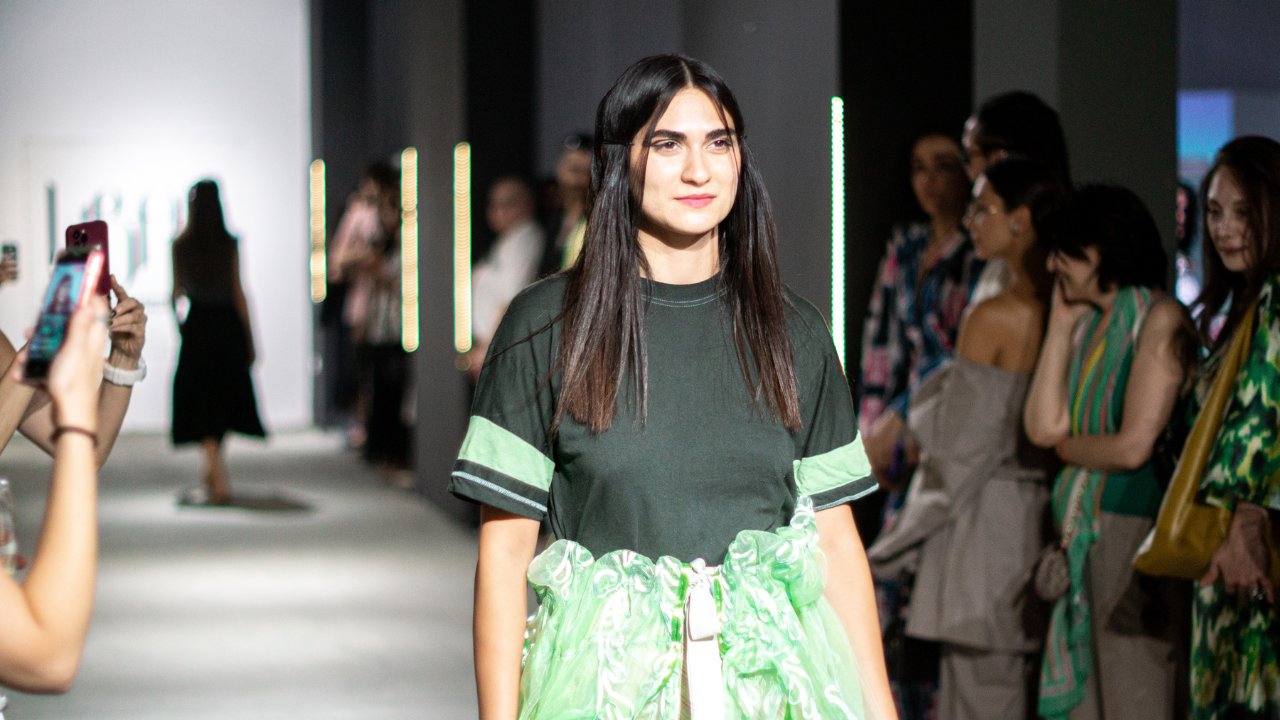 Carutsel showcase at Latitude Art Space during YBAF Fashion Award 2023

Q: What plans do you have for the future?
A: For my brand, I can say that the future absolutely must include some funding, so I'm also trying to apply for grants and win whatever competitions I come across. I've reached the limit of what I can produce with the resources I already have. I need to be able to finance contractors and employees to take over the parts of the brand that I can't juggle on my own such as social media, technical support on tailoring, and so on.
In the meantime, I'm working on developing relationships with various stores that reach the people I'm designing for. There are some exciting new opportunities arising in that department and it's really encouraging to see the demand for more boutiques to open up and house brands like mine.
I participated in a few KET markets so far and I think in general, this is a time in post-COVID and post-war Armenia, where we are seeing a huge uprising of grassroots efforts to uplift makers, artisans, and craftspeople countrywide. I'm grateful to be here and bear witness!
Carutsel
Q: As an Artbox Incubator alumna, what were your main takeaways from the program and what would you advise up-and-coming creative entrepreneurs?
A: My takeaways from the program are pretty similar to my sentiments about industries being ecosystems. I really encourage both old and new Artbox participants, and certainly, anyone who has the honor of being included in the wider Creative Armenia and AGBU global community - to work together, make sure to collaborate, and keep in touch. Peers who frequently engage and value network maintenance benefit their projects. We cannot achieve anything of real substance alone, and I am truly blessed by the individuals who have linked arms with me on my pilgrimage into building an Armenian company, as well as the Artbox program for boosting my skills and unlocking potential.

ANAHEED SARIAN:
Follow ANAHEED SARIAN on Instagram